Oceans SDK is a CAD-independent middleware component technology that allows easy integration of 3D CAD data assets in enterprise applications. Enterprise applications such as PLM, ERP and MRP among others require access to product data that is authored in CAD systems. Currently the only way to access such CAD data is by using expensive royalty-based API's licensed from CAD software OEM's. Oceans SDK provides a single, non-royalty based solution to access product data from all major CAD systems including CATIA V4, CATIA V5, Unigraphics, SOLIDWORKS, Solid Edge, Pro/ENGINEER and Autodesk Inventor, Parasolid, IGES and STEP thus providing enterprise application vendors a significant competitive advantage.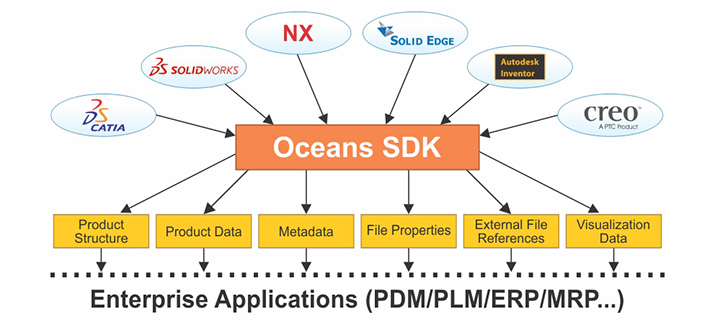 Any ISV or corporate enterprise application development team looking at 3D CAD integration in their enterprise application(s) should consider Oceans SDK. This could include (but not restricted to):

Product Data Management (PDM) / Product Lifecycle Management (PLM)

Enterprise Resource Planning (ERP)

Manufacturing Resource Planning (MRP)

Web-based Catalog

Sales Configuration Systems

3D Search functionality
Oceans SDK provides access to native product information stored in files of all major 3D CAD formats, via a unified API architecture, and without the need for a CAD license. OSDK's single API for all the CAD formats makes the integration development a lot easier and keeps the maintenance costs low.
In addition to a C++ API, OSDK also has a COM API that can be used with common scripting languages to develop lightweight browser-based CAD interfaces for ERP/PDM/PLM systems.
Data Support:

Product structure, including component instance names, counts and transformations

Product Data (Part Number, Part Description, Units)

Metadata (Supplier/Vendor, Material, Cost...)

File properties (File size, Created, Modified Date)

Preview image - thumbnails

File history & version information

Associated files - drawing files

Visualization data (embedded, if any, in the file, like CGR & JT)

Configurations / Family table information

'Viewable' as a 3D format (VRML)

Export to IGES, STEP and Parasolid
OSDK is based on CCE's well-known
ODX libraries
that provide native access to major CAD systems, and is currently used by many Independent Software Vendors for their CAD-independent viewers and translators.
For additional information, contact
oceans-sdk@cadcam-e.com
with your specific requirements.